Well, sure you do. Otherwise you wouldn't have clicked on the link. 😉
Okay, so aaaaaaaaages ago–like, for the Resonance blog tour–I sent Keri Lake a post for her stop titled 'Wanna Meet Sean?' And I love the images I found to represent Sean soooo much, that I decided I would pretty up the weekend by reposting them here.
So, are you ready to meet Sean?
Here's the post:
Putting a face to a name is a toughie for me. Even more so when I've been asked since Darkness & Light was published, 'How do you picture Sean?' or, 'If you had to cast him, which actor would you choose?'
I get asked this a lot in interviews, too. And I'm always stumped. Always!
Because when I write a character, I know who they are, but other than a list of physical attributes, I often have no diggety dang idea what they actually look like as a complete package. I'm more about the presence and personality of a character. But then, I'm like that when I'm reading, too. Ask me what a character is like at the end of reading a book, and I can easily list a few quirks and 'ways' of theirs. Ask me what they looked like, however, and I'm hard pressed to do so.
So, for that reason, I've never (BEFORE) been able to give you guys a visual on this main Holloway Pack male.
But that is all about to change.
You see, a couple months ago, I, by happenstance, stumbled across an image of a somewhat hunky male on the Internet, whereupon I literally threw up my hands and muttered, "My God, that's Sean Holloway!"
I've found him!
And now I'm going to share him with you.
*nods head*
Here you go: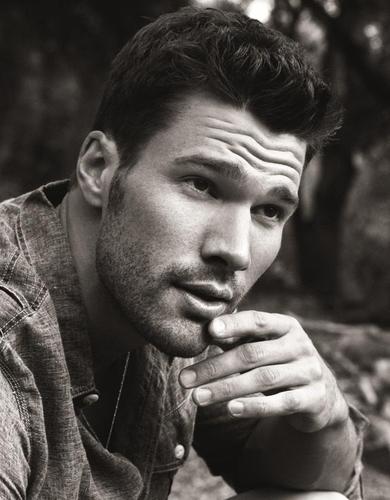 And finally, just because I can:
So … whatcha think? He anything like you'd think he would be?
(Hot dude's name is Aaron O'Connor, btw. Here's his Twitter Handle. You're welcome.)
Off to Pinterest, I go!
All images are linked to source.